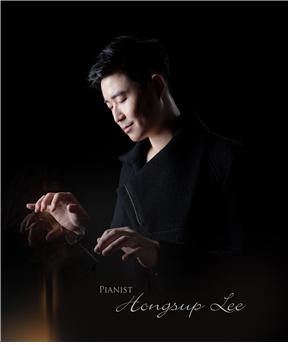 Born : 1. Jan, 1987 in Seoul (Kor)
Education : The Juilliard School, New York, NY (Keyboard Instruments MM)
Eastman School of Music at Rochester, NY (Applied Music
Piano Performance – BM)
Millikin University in Decatur, IL (Music Department-Piano)
Taejeon Arts High School in Taejeon, Korea
Musical Career and Activities :
A first Korean member of Music Fraternity 'Phi Mu Alpha'
Alice Herren Ayars Award recipient for outstanding pianist
Selected for Honorary student from Pi Kappa Lambda National Music Honor Society
Juilliard Chamber Fest performance in 2013
Played entire Beethoven's 9th Symphony (arr. Liszt) for 2 pianos at Lincoln Center
Countless performances at many concert halls including Kilbourn Hall,
Howard Hanson Hall, Ciminelli Lounge at Eastman, Paul Hall and morse
Hall at Juilliard
Frequently cross the musical border with imaginative collaboration works; '동행(同行) – collaboration with Korean traditional music' in 2013
'Pianist Hongsup Lee & Friends' – collaboration with popular(pop) music in 2017
Mr.Lee's latest CD, Back to Classcis BACH, has been released
internationally in 2017.
His first music video "Prelude" has broadcasted on MBC
Currently, Mr. Lee moves about most energetically in the classical music world as a composer, arranger and pianist himself in Korea.
Back to Classics BACH
"prelude, invention & minuet"
program Ⅰ
Minuet Hongsup Lee
Prelude from Well-Tempered Claver #1 in book J.S. Bach
Ave Maria C.Gounoud
Prelude Hongsup Lee
Invention #1 J.S Bach
Invention #1 Hongsup Lee
Invention #13 J.S Bach
Invention #13 Hongsup Lee
Minuet 3/4 Hongsup Lee
Minuet 4/4 Hongsup Lee
program note/
From Bach's passing in 1750 to 2017, Bach's music transcends 300 years to meet pianist Hongsup Lee. Through the instrumental works of the Baroque period and the reconciliation of the diverse musical genres of the 21st century, pianist Lee bridges the two different eras as he beautifully travels across the keyboard inspired by the timeless musical geniuses.
Pianist Hongsup Lee is graduated the Juilliard school in 2014. Today's recital would be a tremendous honor to share a great his unique musical experiences with the audience. As an alumni of the Juilliard school, looking back, the precious time while he was studying at Juilliard was the cornerstone that helped him to find his own musical voice specially in composition area. As a archetypal classical pianist, reinterpretation and recreating music could not familiar at first, however the refreshing experience he got from all the creative musical training including improvising keyboard class opened his eyes to develop his own genre of music. Today is the monumental night that he shares his story with his own music.
Mr. Lee is currently staying in Korea and his first debut album "Back to Classics BACH" has been internationally released. This album consists of 9 tracks of music of BACH that were all transcribed by himself. Audience is easily able to enjoy the true beauty of BACH by not only his lighter tune such as a minuet for anna magdalena bach, but also a serious keyboard piece like toccata. Tonight is a beginning of new musical journey that goes with pianist Lee's BACH.
program Ⅱ for piano duet (with pianist Woo Young Eun)
Minuet Hongsup Lee
Prelude from Well-Tempered Claver #1 in book J.S. Bach
Ave Maria C.Gounoud
Prelude Hongsup Lee
Invention #1 J.S Bach
Invention #1 Hongsup Lee
Invention #1 for 4-hands Hongsup Lee
Invention #13 J.S Bach
Invention #13 Hongsup Lee
Invention #13 for 4-hands Hongsup Lee
Sonata for piano 4-hands Op. 18 No. 5 in A major J.C Bach
Sonata for piano 4-hands Op. 18 No. 6 in F major J.C Bach
Brandenburg Concerto No. 2 in F major, BWV 1047 J.S Bach-M.Reger
Hongsup Lee Piano Recital
title : Inspiration & Imagination
program
Isoldes Liebestod S447 R.Wagner – F.Liszt (1811-1886) 7′
Festspiel und Brautlied Aus Lohengrin, S446 11′
Années de pèlerinage Suisse, S. 160 F.Liszt(1811-1886)
Vallee d'Obermann 15′
Intermission
Impromptu in G Major S.565b F.Schubert – F.Liszt (1811-1886) 4′
Erlkönig S.558/4 5′
Standchen (Serenade) S.560/7 6′
Soirées de Vienne, VIII S.427 10′
program note/
If there are some audiences who call themselves as a beginner when it comes to Liszt's piano music, today's recital I make will show where to start, what to look out for and what to listen to next about Liszt's music. Looking back on the history, some composers have quite such a strong connection to a single instrument as Liszt does to the piano. Behind Chopin who probably be the most notable piano composer in history, Liszt's incredible virtuosity and breathtakingly beautiful moments are naturally permeated on his transcriptions. His creativity is easily found from virtuosic fireworks of Wagner to painfully emotive slow moments of Schubert. The Liszt's transcriptions that will be presented today adhere closely not only to original compositional structure without any free fantasies, but also paraphrasing works with much of imagination. Moreover, you are also able to feel the 'pianistic painter' side of Liszt's character by "Vallée d'Obermann" , because Liszt's pianistic treatment wonderfully reflects the sentimental nature of the melancholy and solitude that is from the original a source of Liszt's inspiration. Today, Liszt's magical pianism is going to be reborn by pianist Hongsup Lee's fiery playing and absolute command of dynamics and color contrast.